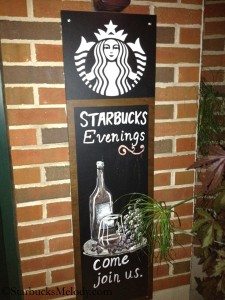 The Streets of Woodfield Starbucks (located near Chicago) has re-launched as a "Evenings" Starbucks location, meaning that it now offers beer and wine.  Also, as an "evenings" Starbucks store, the food menu includes additional 'elevated' offerings not available at a regular Starbucks.
One of my regular readers dropped by this store, and sent some photos of this store now boasting all the "evening" offerings.  The store even has a little coupon booklet to help introduce customers to their new menu (and the other Evenings locations will be adding a coupon booklet too).  This store, as well as most other "Evenings" Starbucks stores, will be offering wine tastings on Friday evenings from 6 p.m. to 8 p.m., and most of the Evenings stores will have live music on Friday nights too.  Call your local "Evenings" Starbucks to confirm what their Friday offerings will be.
Allow me to back up a moment.  All of the "Evenings" Starbucks locations re-launch food on August 1, 2012.  The new "elevated" food offerings include the following (I hope I have all these right!):
Warmed Rosemary and Brown Sugar Cashews
Warmed Mediterranean Olive Blend
Crudites and Smoky Chipotle Hummus Dip
Blue Brie Artisan Cheese with Toasted Walnut Cranberry Bread and Fig Preserves
Caramelized Onion and Roasted Peppers Crostini
Parmesan Chicken Skewers with Honey Dijon Sauce
Truffle Macaroni and Cheese
Bacon-Wrapped Dates with Balsamic Glaze
Chocolate fondue with an edible crust, strawberries, hand cut marshmallows, and Madeleine cookies
Calebrase Salami, Tomato and Mozzarella Flatbread
Artichoke and Goat Cheese Flatbread
The Streets of Woodfield Starbucks launched these food offerings a little early – as is obvious, this blog post features photos taken at the Streets of Woodfield.  I think the big new food sampling kick off events are really planned for August 3, 2012, so be sure to drop by on Friday the 3rd.
The little coupon booklet that I mentioned above has a few pictures of these food items.  So here are the photos related to food and the little coupon booklet:
If it is not obvious, I really want to try that chocolate fondue!  The container that the chocolate is in is supposedly edible!  If you are looking for an Evenings Starbucks, here a few locations:
By the way, I've heard that there are a couple of Evenings Starbucks in Atlanta, as well as Southern California.  Please let me know if there is an Evenings store near you.  I don't know all the locations.
The Streets of Woodfield Starbucks has gone through some minor changes to make the design a little more consistent with its new Evenings designation.  This picture here shows a new comfy seating area.  As I recall from my previous visit to this store, this area used to have a children's table and seating: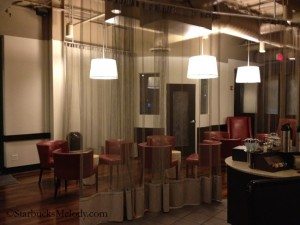 The Streets of Woodfield now has outdoor patio seating, and has added the black logo siren used only at Evenings Starbucks locations:
This next photo features one of the few design elements that I'm not sure that I like.  From the photo, it appears to be a wall design made from wine boxes.  As I recall from my visit to this store one year ago, this area previously had a huge chalkboard with a great illustration of how a Clover coffee brewer works.  I really had liked the chalkboard a lot.  If I'm mistaken, and that area wasn't the big chalkboard, someone please let me know!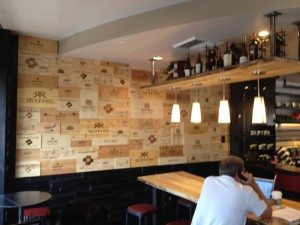 Hope you enjoyed your tour of the new food offerings for the Evenings Starbucks stores!  Thank you very much to the reader who sent all the many great photos of the Streets of Woodfield location.
Related posts