Starbucks has just launched a new menu of food items for their Evenings stores.  I mentioned this in an earlier blog article here.  I had a chance to stop by the Terry and Republican Starbucks, and try all the new items.  I ate so much food!  This event was arranged by Starbucks, and I, and several other bloggers, ate everything!  The partners kept bringing us more and more and more food.  I was so impressed with the food that I had to write something up right away and share a few photos.
The bacon-wrapped dates were AMAZING.  They were the clear winner, and everyone in the group loved them.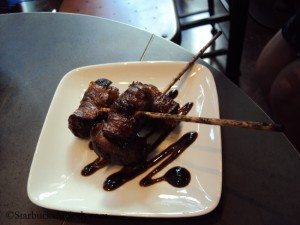 I paired the rosemary-glazed cashews with Sumatra from the Clover and loved it.  The savory notes of these cashews pair perfectly with a big Indonesian coffee.  Try this pairing, if you get the chance: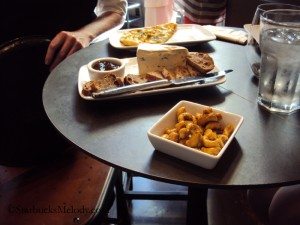 The partners at Terry and Republican brought out the truffled mac and cheese as one of the last items.  The other bloggers and I dug right in, as you can see.  Though at that point, I was already pretty full.  It was still delicious.  It's very cheesy and rich.  This is perfect if you are very hungry!
If you order the artichoke and goat cheese flatbread, be forewarned, it has a spicy kick to it.
Here are a few more food photos.  These small plates get two thumbs up from me.  I hope you get a chance to try the new Evenings food at Starbucks, and tell me what you think.
Last but not least, I was browsing the blog produced by one of the other bloggers at this Starbucks-arranged event:  If you're looking for a fun Seattle food blog, try the Tossed Salads And Scrambled Eggs blog.  Oh yes, the FTC has a requirement that I say when I get something free and blog about it; Starbucks overfed me tonight. 🙂
Related posts