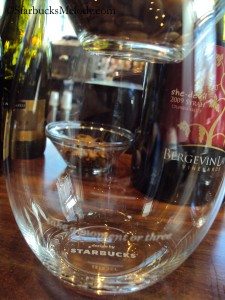 If you happen to drop by an Evenings Starbucks, take a look at the new Riedel wine glasses that are available for sale.  They are fun!  They have a lot of whimsy to them!  There are four wine glasses available – actually, they are all the same wine glasses, but each has its own unique saying on them.  In small print, you can find these great little words on the glasses:
Breathe out, drink in
Escape your plans
Take a moment, or three
Permission to relax
Of all the sayings, I think I like "Take a moment, or three" the best.
I hope you like these wine glasses too.  I think they retail for $14.95, and once again, they are available for purchase at the Evenings Starbucks locations.  I'm not any kind of wine glass expert (I admit, I know almost nothing about judging what makes a good wine glass) but from what I understand, Riedel is a very good brand for Starbucks to be partnered with.
The previous Starbucks wine glasses that I wrote about (over one year ago) are no longer available.
I think it's been a long time since I've had a truly open thread.  Feel free to discuss anything Starbucks-related.  This is truly an OPEN THREAD.  I know that many people on Twitter are talking about August 7, 2012 being Starbucks Appreciation Day.  How is your Starbucks Appreciation Day going?  Is your store busier than usual?
Related posts