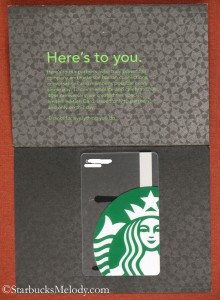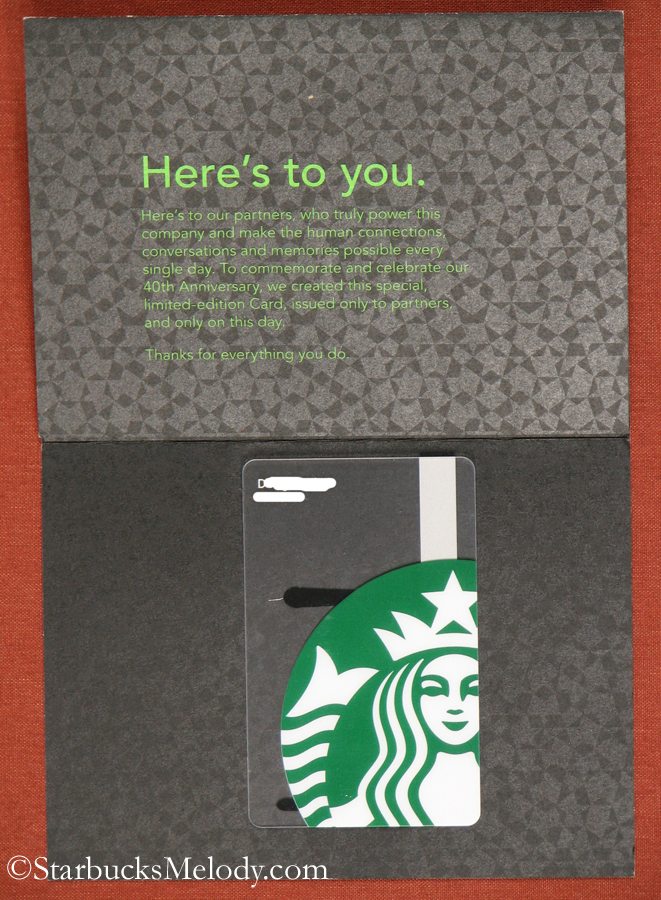 Here's to you.  Here's to you, our partners, who truly power this company and make the human connections, conversations and memories possible every single day.  To commemorate and celebrate our 40th Anniversary, we created this special, limited-edition Card, issued only to our partners, and only on this day.  Thanks for everything you do.
Now is a good chance to simply say thank you to the many partners who make the Starbucks experience come to life, even when we customers are tired, distracted, worried, half-awake, non-thinking, and rambling on without the brain in gear.  From another blogger's site here's such a great little example of the Starbucks Experience in action: Great Expectations.
Thank you to the partner who sent me his Starbucks card.  He is now an alumnus of Starbucks, having left the company this year.
This is an open thread.  On November 3, 2011, Starbucks broadcast their Fourth Quarter results, with highlights of the year's and the quarter's performance.  A replay of the webcast is available on the Starbucks Investor Relations page.  Some highlights from this webcast are as follows:
Fourth quarter set a record with 3 billion in net revenue, the highest in Starbucks history.  This represents a 15% increase from last year.  For the full year, fiscal 2011 has done a record 11.7 billion in net revenue.
KCups will be available in retail stores in 2012.  KCups became available in grocery stores this month, and it is expected that over 50 million KCups will be distributed to grocery stores by the end of this month.
The Pumpkin Spice Latte grew 44% in sales over last year's sales.
Over 3.6 million people are active members in MyStarbucksRewards, and there are nearly 2 million gold members.  A Starbucks card is used in nearly one in every four transactions.  In fiscal 2011, nearly 1.1 billion in purchases was paid for by use of a Starbucks card.  Per Howard, MyStarbucksRewards continues to "drive traffic, frequency, and  incrementality for our business and value for our customers."
At the end of September, there were nearly one million smart phones with at least one Starbucks card registered to it.  The Android app launched in June this year.
Starbucks operates nearly 6,200 stores in 55 international markets.
Via did 250 million in sales in fiscal 2011, and is expected to one day be a billion dollar Starbucks segment in the years ahead.  It is currently available in 12 markets including China, Philippines, Thailand, Malaysia, and many more.
Starbucks core will always be "coffee and community."  Blonde Roast will be available in whole bean, and ground in January in our stores, and will be brewed in store.
Starbucks plans to open a net 200 stores in the U.S. next year.
2011 marks the 15th Anniversary of the opening the first Starbucks  store in Japan.  And the Japan business continues to recover ahead of plan from the tragic earthquake and tsunami that struck earlier this year.   Howard Schultz said that he visited the Sendai region of Japan a few weeks ago, an  area hit by the devastating tragedy.   He had this to say about this trip, "The resilience, energy, and heart-stirring compassion evidenced by our  partners and customers that I observed during the trip, was nothing short of inspirational, and reaffirmed my admiration for and commitment to the Japanese people who continue to do so much to help and take care of one another in the wake of this extraordinary catastrophe.  I went there specifically to help set up an emergency CUP fund —  Caring Unites Partners for Japan. The CUP Fund provides cash grants to help partners and their families who have been impacted by the disaster, and it is funded entirely by Starbucks partner donation.   I want to personally extend my thanks and appreciation to the many partners around the world who have contributed to the fund."
During the Q & A period of this quarter investor conference call, one caller asked a question about what really created this fourth quarter success.  I really liked Cliff's response:  "Greg, Hi  it's Cliff Burrows here, President of the Americas.  I think one of the other things that should be noted is we've had great results across the US which is a testament to the quality and stability of our leadership teams.   And we are really going about our work every day  of delivering  great beverages to the customer, friendly service and speed.  And those three attributes are really important to customers really across the globe for Starbucks. And we couldn't do that without our partners putting on the green apron and showing up each day, and really being welcoming and being incredibly professional and proficient  around what they do.  So, it is 200,000 people either serving customers with their green apron on or supporting someone who does.  On one level it is very simple, and it is hard work and we continue to do it every day and we will continue to focus on that."
And with that, here's to you!
Related posts