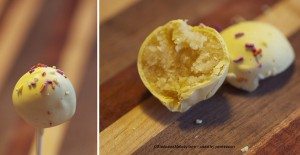 Starbucks will begin offering lemon cake pops and Bavarian pretzels starting April 30, 2013.  They both sound good.  I am especially looking forward to the pretzels – I get savory cravings now and then. 😉 Also, there will be other new food options at Starbucks:  Two salad bowls will be launched – If you're looking for a healthy lunch at Starbucks, you could try the Zesty Chicken and Black Bean Salad Bowl or the Chicken and Greens Caesar Salad Bowl.
The Huffington Post reported on the new food offerings in this article – Starbucks Unveils Spring 2013 offerings: New Drinks Salads and Sandwiches.  There's also been lots of news about the new  Frappuccino called the Caramel Ribbon Crunch Frappuccino, described by the Huffington Post as "…a blended beverage made with caramel syrup, Frappuccino roast coffee, milk and ice, drizzled with a layer of Starbucks' new dark caramel sauce and topped with whipped cream, more caramel and a crunchy caramel sugar topping."  I know that many people will love the new Frappuccino.  Frappuccino Happy Hour returns in early May also.  (I am still working on getting exact dates.  I'll keep you posted.)
What do you think of the new food items?  I bet the lemon cake pops are going to be very popular! And just as a reminder, Starbucks seasonal whole bean coffee Three Region Blend will be available on April 30th too.  Just a few more days to wait for the new food and Three Region Blend!
Related posts