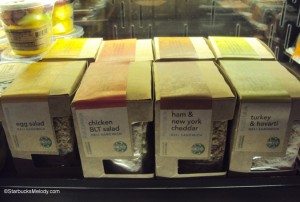 Lunch at Starbucks now has a lot of new options!  Starting today, (April 30, 2013) there are four great little deli sandwiches available, and salad bowls too.  I wanted to try as much as I could before I wrote this article, so for lunch today I had the Zesty Chicken & Black Bean Salad Bowl, as well as the Chicken BLT Salad Sandwich.  By the way, this was too much food for lunch!  However, I wanted to try at least a few items before writing this article.
I think all the new lunch items are much better than the previous options.  It makes the idea of grabbing a panini a little boring!  The Chicken BLT Salad Sandwich was pretty filling!  It's essentially a chicken salad sandwich – the bacon flavor in it is extremely mild, so if you're looking for a ton of bacon flavor, this isn't it.  Having said that, it's totally delicious.  It was super moist, and the chicken tasted extremely good.
The Zesty Chicken & Black Bean Salad Bowl was delicious too.  Although, when you first attempt to add in the salad dressing and stir a bit, you'll quickly notice that the bowl seems a little too small.  It's hard not to make a mess.  I really like feta cheese and this was perfect.  I love that it has  jicama.  Growing up in Southern California, I ate a lot of it as a kid.  The chili vinaigrette dressing is not spicy, which also is something I like.  I was worried that there would not be enough dressing, but too my surprise it was perfect.  And best of all, the chicken really tastes like chicken.  That may sound strange, but just about one week ago, I wrote about the Grilled Chicken Salad at Carl's Jr. and discovered a salad that was horribly processed-tasting.  It was difficult to eat.  The chicken tasted plasticized at Carl's Jr.
Today, I managed to eat a salad bowl, and two of the sandwiches.  Much later in the day, I had the Turkey and Havarti Sandwich, which might have been my favorite.  The Havarti cheese was perfect, with just the right amount of dill flavor.
So it is really wonderful the quality of good food you can now get at Starbucks for lunch.  And in case you didn't know, you can use a MyStarbucksRewards reward to pay for the new salads and sandwiches.
If you're looking for lunch on the go, here are all the hot new options:  (I've lifted the ingredient descriptions from Starbucks.com)
Zesty Chicken & Black Bean Salad Bowl – A blend of grilled chicken, black beans, roasted corn, jicama, tomatoes, feta, spring greens and quinoa with mild chili vinaigrette.
Turkey & Havarti Sandwich – Carved oven-roasted turkey with scallion mayo, dill Havarti cheese and butter lettuce on harvest wheat bread.
Chicken BLT Salad Sandwich – Grilled chicken, bacon, roasted tomato, scallion lemon pepper mayo and butter lettuce on harvest wheat bread.
Chicken & Greens Caesar Salad Bowl – A delightful twist on the familiar favorite, prepared with grilled chicken, kale and roasted tomatoes.
Ham & NY Cheddar Sandwich – Carved oven-roasted ham, sharp New York Cheddar cheese, apple mustard and arugula on cider wheat bread.
Egg Salad Sandwich – Hard-boiled egg salad mixed with chives and arugula on cider wheat bread.
From the above list, I've tried the first three items, and easily give all of them, two thumbs up.
I think it's quite possible that some of my readers are also reading the Starbucks blog of the Seattleite on a quest to eat all Starbucks food for one year.  Her name is Beautiful Existence, and for one year she's eating only at Starbucks, other locations wholly-operated by Starbucks (such as the Tazo store, or the Evolution Fresh stores).  I was just thinking that the new food items much be a huge, welcome change for her!  Now that is dedication to Starbucks food!  I think she might outdo me as a fan!
Last but not least, if you're getting a sandwich for lunch, pay attention to the little bit of whimsy found with the packaging of each one!  I thought 'deliciously ever after' was pretty cute.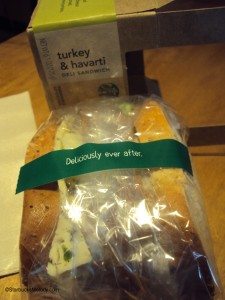 Let me know what you think of the new lunch options.  I know there is a vegetarian salad, but I didn't notice it at my local Starbucks.  The vegetarian one is called the Hearty Veggie & Brown Rice, and is available in a limited number of locations.
Feel free to talk about anything Starbucks food related.  And feel free to tell me which comment system you like best on my blog – the WordPress default comments (current system) or the Disqus system.
Related posts