Starbucks Caffé Verona Through the Years.
Melody, June 17, 2013
14
1 min

read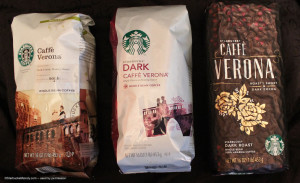 Starbucks Caffé Verona gets a whole new look this month:  the new Starbucks packaging should begin appearing in stores this month.  (A sneak peek at House Blend is here.)
A reader of this site sent a photo he took from his Verona collection – he'd saved a couple of old bags of it!  Verona is Starbucks' oldest proprietary blend.  Three years ago, I wrote an article about the history of Verona, and I still recommend reading through it for an interesting history lesson about this wonderful coffee:
In my Starbucks memories, Verona has been represented by a cherub, a bridge with a romantic couple on it, and now roses.  I like the new packaging!  What do you think?
And, a huge thank you to the reader who sent me this fantastic photo.  It's great to see the three bags lined up next to each other.
Updated in 2017:
This article is now very dated! If you want the real story of Caffe Verona (which involves some whiskey!) read this more recent StarbucksMelody article.
Related posts