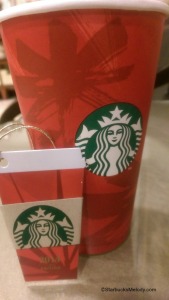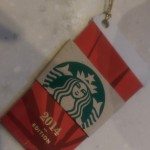 November 1, 2014, marks the return of the Starbucks red cups! Be on the look out for red cups, and you can find an adorable mini Starbucks card that looks just like the iconic red cup.
(International Starbucks markets may have different launch dates for the red cups. I've heard that Starbucks Canada gets them on November 3rd).
With the return of the red cups, look for Starbucks holiday beverage favorites:
While you're enjoying your favorite red cup drink, snap a picture and enter in the Starbucks-sponsored contest #RedCupContest. (This is a good time to mention that Starbucks has a very, very generous photo policy inside their stores. I realize it wasn't this way a decade ago, but at this point customers may freely take photos inside a store – Starbucks changes with the times, and I believe the current policy reflects the acceptance that most phones have a camera and embraces social media such as Pinterest, Instagram, Google+, and Twitter.)
Starting November 1st, look for selected items on the merchandise wall to be 30% off (my understanding is that at-home coffee items, such as whole beans, K Cups, and Verismo Pods will not be on sale):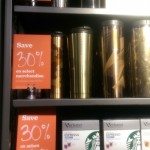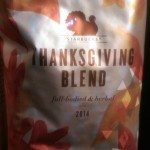 Starting November 1, you are also going to find Thanksgiving Blend in stores! This is a favorite first into the Starbucks whole bean coffee lineup November 4, 2008! In Starbucks stores, you'll find Thanksgiving Blend in both the K-Cup and whole bean formats.
I'd like to mention the book, Tales of the Siren. I hope you'll pick up a copy. Thanksgiving Blend is a meaningful coffee to me partly because I had an amazing experience in 2008, when this coffee was newly introduced into the Starbucks lineup. I partly credit Thanksgiving Blend for inspiring me to be passionate Starbucks customer and creating this blog! In 2008, I had the unique opportunity to attend a coffee roasting at the Starbucks headquarters for this coffee, complete with Tom Douglas talking about the creation of Thanksgiving Blend with Starbucks coffee masters.
Last but not least, be on the lookout for the "Starbucks For Life" contest beginning in early December lasting the whole month. The details aren't clear but from what I have heard, you enter this contest by transactions in Starbucks. Each time you swipe your registered Starbucks card or pay with the mobile app, you gain an entry to possibly win "Starbucks for Life." (One beverage a day for thirty years). I'm not sure I have all the "Starbucks for Life" details down. Stay tuned for more information.
Related posts