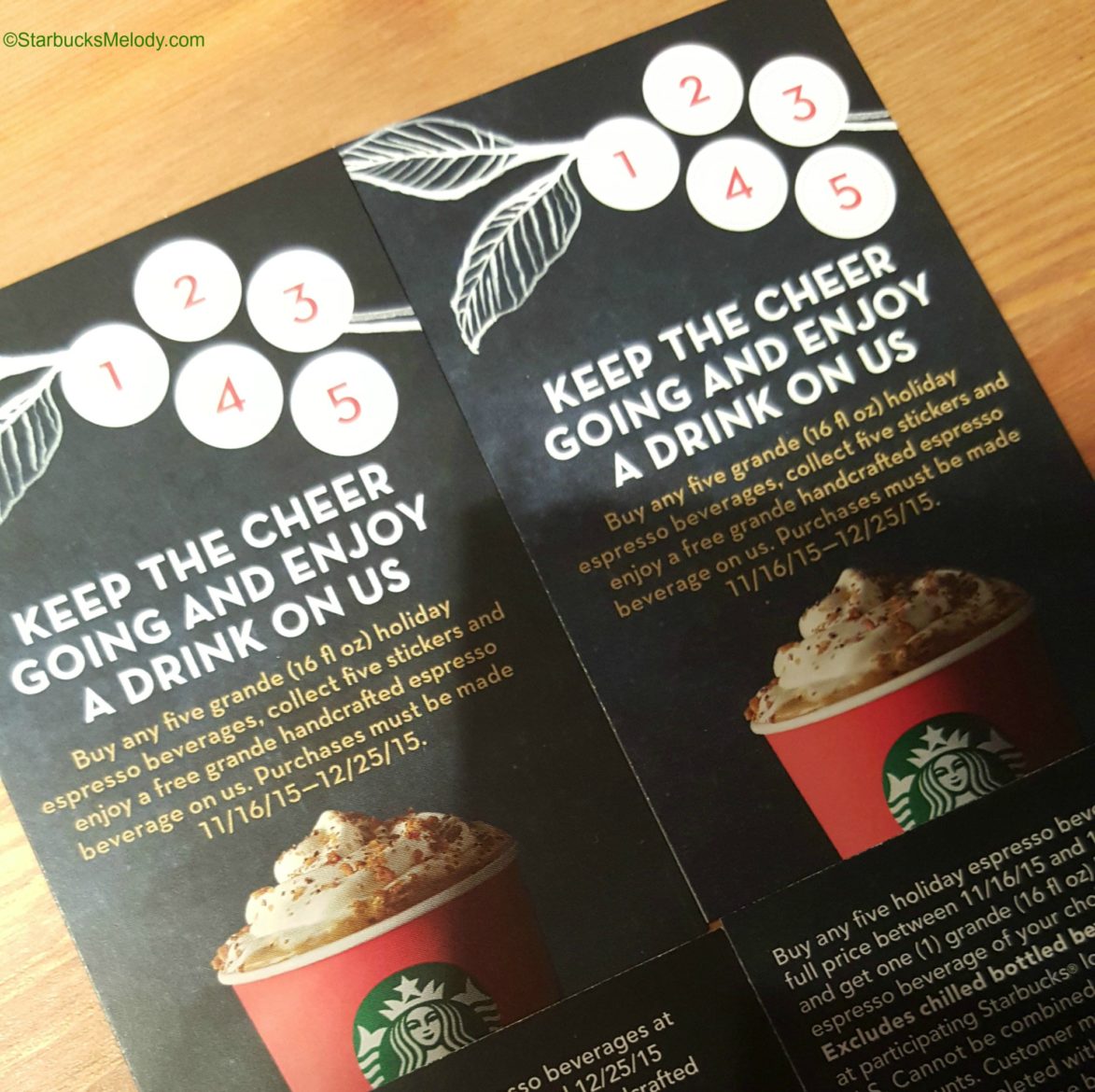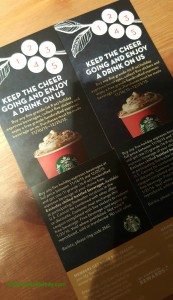 A new Starbucks promo starts today! Buy holiday drinks, and get one free.
You can get a little card that you collect 5 stickers on it – one sticker for each time you purchase a holiday espresso beverage. When the card is full, you get any grande handcrafted espresso beverage.
Some things to note: The card specifies that you have to collect the stickers between today and December 25th. Once you've filled up the card with 5 stickers, you must redeem it for a free drink before January 31, 2016..
You only get stickers for holiday espresso beverages, so the new Gingerbread Tea Latte doesn't count. For holiday espresso beverages, I assume that any of the following would count – these are the drinks that earn you stickers for the "Keep the Cheer Going" card:
Chestnut Praline Latte
Gingerbread Latte
Caramel Brulee Latte
Eggnog Latte
Peppermint Mocha
Peppermint White Chocolate Mocha
An Eggnog Latte add Chai
The card has no requirement what form you're buying the drinks in, so order your favorite holiday beverage iced, hot, or as a Frappuccino.
Starbucks did this same promotion last year, and you could purchase any size of the drinks and get the stickers. This year the card specifies that you must be getting a Grande size. I would hope that if you were buying a Venti holiday espresso beverage that your barista would still offer you a sticker for your card, given that you're getting a more expensive drink. That could be a moment at the register where the barista would hopefully 'make it right,' so to speak.
Also, you have to be paying full price for the drink to get the sticker. This wasn't clarified on last year's card either. So you do not get a sticker if you're using a free drink reward to get a holiday drink. And you do not get a sticker if you're getting a partner discount on your beverage.
Of course if you are paying for your beverage with a registered card, you will still earn My Starbucks Rewards too.
Enjoy your holiday drinks!
(If you liked this article, you might also enjoy 7 Tips for Saving Money at Starbucks – using promotions like this one is one way to save at Starbucks).
Related posts