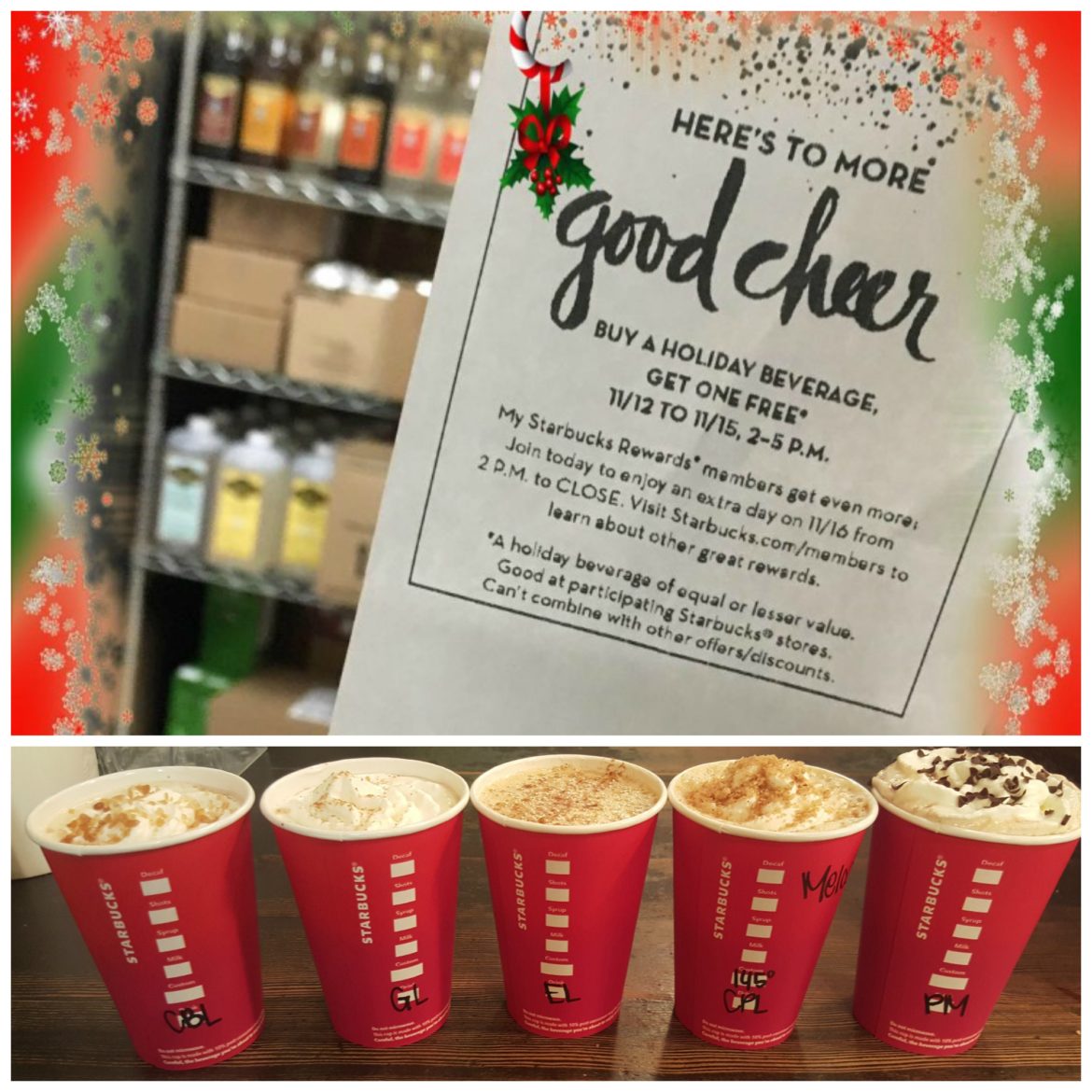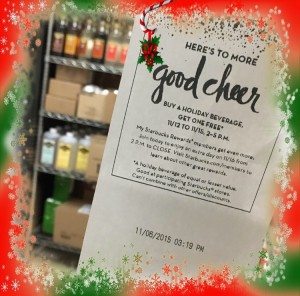 Starbucks is doing a "buy one, get one free" promotion November 12th – November 15th! Mark these dates on your calendar.
Go to Starbucks between 2:00 PM and 5:00 PM, and you can buy holiday beverages as buy one get one free! A little over a week ago, I gave you my tips for saving money at Starbucks, and there's no doubt, using special promotions like this one is a help!
You might have seen receipts already advertising this promotion! You do not need to walk in with a special slip to take advantage of this offer.
Also, if you are a member of My Starbucks Rewards, you get an extra day of the promotion: My Starbucks Rewards members enjoy an extra day on November 16th, from 2:00 PM to close. Just pay with your registered Starbucks card. You do not need have a shiny gold card. Just use any registered Starbucks card as your form of payment.
Every year, there's a little confusion as to what counts as a "holiday beverage". You can get these drinks:
Eggnog Latte
Caramel Brulee Latte
Gingerbread Latte
Chestnut Praline Latte
Peppermint Mocha
Peppermint White Chocolate Mocha
I ordered all of these drinks (except the Peppermint White Mocha) at a neighborhood Starbucks. Here's what you can order. (Peppermint White Chocolate Mocha is not shown).
Just so you know, while the Salted Caramel Mocha and Pumpkin Spice Latte are seasonal drinks, they do not count for this promotion. My recollection from year's past, is that when Starbucks has done this promotion, it has been for either the hot or cold version of the drink. There's nothing any where written on the promotion "good cheer" slips printing on receipt paper, that says it's limited to the hot version of the drink. However, I need to do some more checking into this.
A huge thank you Starbucks Montecito who shared with me their festive "good cheer" receipt slip with a holiday border to it.
Related posts