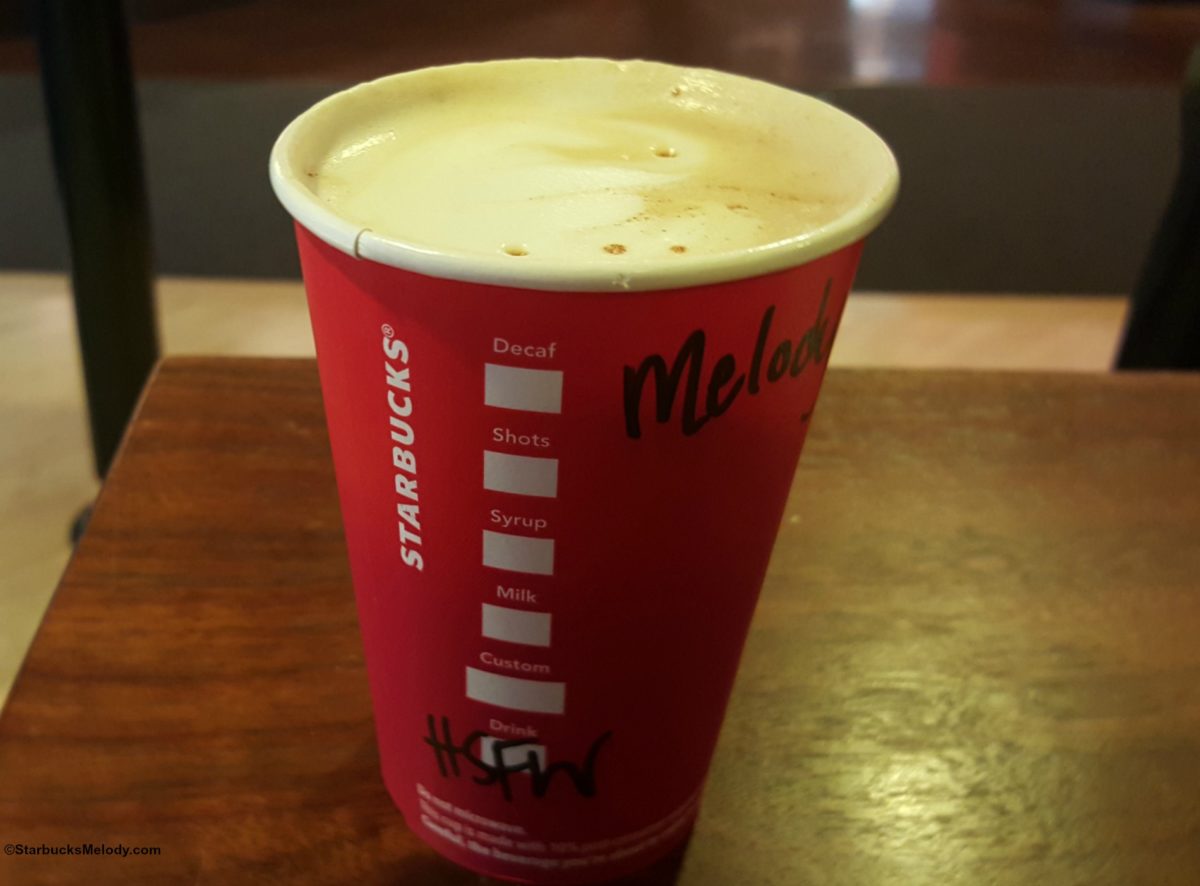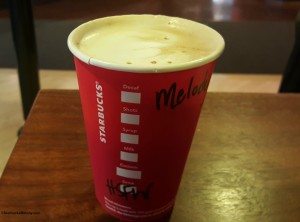 Starting November 30th, you can get a new Starbucks drink. It is the Holiday Spice Flat White. I tried this drink early and sat down face to face with Starbucks media relations representative Erin Shane and talked about the new beverage.
The Holiday Spice Flat White is a flat white, using ristretto shots (as is the standard for Starbucks Flat White), Espresso Roast Christmas Blend, and a proprietary and delicious spice blend.
The spice blend in the Holiday Spice Flat White is made up of ginger, nutmeg, cinnamon, clove, sugar and a touch of tangerine, and was inspired by the practice of mulling cider. The spices and velvety milk perfectly complement Starbucks Christmas Blend Espresso Roast. This is the first time that Starbucks has offered the Christmas Blend Espresso Roast as a second espresso shot option!
The drink itself has a beautiful citrus aroma. I genuinely enjoyed this drink. The spices are not overwhelming and you get a lot of the nice cinnamon notes as you drink this.
I asked Erin Shane if customers can get a "sticker" for the current promo "Keep The Cheer Going and Enjoy a Drink on Us" Holiday Season Sampler cards. Customers collect stickers each time they buy a grande-sized holiday beverage, and after 5 holiday drinks, a customer can get any grande beverage free of charge. The answer was clearly a "yes", customers do get a promotional 'Keep the Cheer Going' sticker when buying the Holiday Spice Flat White. According to Erin, "The Holiday Spice Flat White is one of the beverages that applies to the Holiday Season Sampler Card, the other beverages include Chestnut Praline Latte, Peppermint Mocha and Skinny Peppermint Mocha, Caramel Brulée Latte, Gingerbread Latte, Eggnog Latte, Joy Brewed Tea, and Teavana Gingerbread Tea Latte."
By the way, you can ask to have the Spice Blend added to other drinks. You can have fun making drink hacks with it! 😉 Add it to a vanilla syrup-creme Frappuccino! The spice flavor might be a bit mild to come through a mocha, but I'm sure there must be other fun things you can do with it. I can imagine it dusted over a warmed new Toffeedoodle Starbucks cookie. There may be a small upcharge for adding the Spice Blend to other drinks.
Enjoy!
Related posts