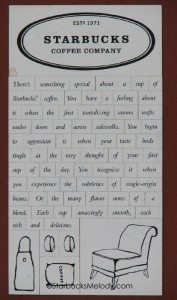 I'd love to see what kind of sentences you can come up with these Starbucks word magnets.  How many sentences can you make?  This is not easy given the small range of words you get to work with (see article image).  You can do silly things like, 'You thought of tantalizing sidewalks,' but that hardly makes sense!  These magnets were in the stores at the same time that Starbucks was promoting the movie Akeelah and the Bee, a 2006 release.  As I recall, after the box office run of Akeelah and the Bee, it was available as a DVD in the store too.  (I think that's right.)  I love these magnets but I don't dare break them up and put them on my fridge.  Such ingenuity.  I think Starbucks could do something like this again.
Now it's your turn.  What sentences can you make?  Post a sentence in the comments.  Have fun!
(I owe a big thank you to Chris Silk, producer of Starbucks Drama blog, who sent me these cool word magnets.)
(I hope I got it right that these date from the Akeelah and Bee Starbucks era.  It's funny, I clearly remember Akeelah and the Bee being in the stores, and I only vaguely remember the merchandise that went with it.)
Related posts
Socialize

Subscribe
Join the StarbucksMelody.com mailing list to receive a weekly email with new posts.