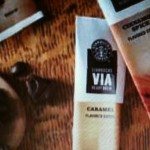 Starbucks has announced that coming soon they will be adding flavored Via Ready Brew to the current line up of Via Ready Brew offerings available in store.  This new flavored Via will be offered in four flavors: Mocha, Vanilla, Caramel, and Cinnamon Spice.  Gossip is that this new product goes on sale in stores in the middle of October.  Further gossip about this product includes that beginning mid-October, with the purchase of the largest size of any Via Ready Brew, one can get a free tall beverage under MyStarbucksRewards.  One important word of caution here:  The free tall beverage offering is just very loose gossip that I've heard and it has definitely not been confirmed by Starbucks.  If I turn out to be totally wrong on that, I've given you fair warning that it was just guessing and gossip.
I haven't yet tried this product which is one of the reasons I haven't said very much about it.  It's a little bit tougher to get excited about a product when you simply don't have a clue what it will taste like.  I don't totally object to the idea of flavored Via, but my gut tells me this would be better offered as part of the consumer products group of grocery store items.  There previously had been tales of high pressure on baristas to sell Via, and I hope very much not to see or hear a repeat of that episode from about one year ago.  For those that do not recall, Via Ready Brew was soft-launched in Seattle in March of 2009, and then a national launch in the U.S. in September 2009, with a slow expansion to the international markets since then.  Via was launched in Japan April of 2010.  When Via was launched in Japan, that market received a wide variety of really cool Via merchandise, including a Via Bearista Bear!  It's worth taking a look at their fun merchandise: (Please note, Via is called Via Coffee Essence in Japan, and not Via Ready Brew, but it is the same product).
Starbucks Via Coffee Essence merchandise in Japan
I've talked about Via Ready Brew several times in this blog, and you can find all the Via related blog posts by click on this link here:
StarbucksMelody.com Categories – Via Ready Brew
I've heard gossip that the Mocha flavored Via is described as a bittersweet cocoa flavor with a touch of vanilla.  Cinnamon Spice is described as a cinnamon flavor with a hint of ginger and other spices.  It sounds like they could be yummy.  However I can't reach a verdict until I've sampled these new offerings, and truthfully I probably have at least a month to wait before that will happen.
The floor is open to your thoughts about flavored Via Ready Brew.
Related posts