I'm super excited about Huxley Mouse (Starbucks Holiday 2010)
Melody, November 4, 2010
88
3 min

read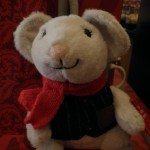 Huxley Mouse is part of the Holiday 2010 collection at Starbucks and it's an adorable plush mouse.  It's been released in Canada already, and will soon be available in the U.S. too, later this month.  There will be a few various items all Huxley Mouse themed including a little book, a tumbler and the mouse.  The cool part of the Huxley Mouse collection is that the book features an original story written by Starbucks partners (Starbucks calls their employees "partners") and emphasizing the importance of sharing and caring during the holiday season.  The illustrations in the book are partner-created too.  I think we are right around the corner from the launch of all the holiday 2010 merchandise and beverages, so I thought I would share something that jumped out to me as especially heart warming.  I can't wait to buy this.  I have heard that the little book that goes with the Huxley Mouse is not available in Canada, and is a U.S. only item, though I'm not totally positive.
Many thank yous to the anonymous partners who helped me with this blog post.  Four different partners helped me with the content, and 3 in Canada sent me some nice pictures of the Holiday 2010 lineup in Canada.  I realize that since Holiday has already been launched internationally (Japan, Canada, and I think UK launches this week) that literally millions of people have already seen photos of the Holiday 2010 lineup, but I thought it would be fun to take a look here at StarbucksMelody.com too.
It was back in June this year I asked my readers what Christmas merchandise did they want to see this year at Starbucks?  That blog post is here.  I'm sure that lots of people are excited for the return of Christmas Blend (as I am too), and holiday cups and tumblers too.  I don't know if there will be a nice plush bearista bear included in the Holiday 2010 collection but it seems like it would fit.
One thing that is funny about this Holiday roll out is that the actual signage and marketing itself doesn't look all that warm and cozy and festive to me.  Nonetheless, I'm looking forward to this year's Christmas at Starbucks.  I genuinely think the Huxley Mouse is cute, and I can't wait to get my hands on one.  As always, I'm looking forward to Christmas Blend, and this year I'm even impressed by Christmas Blend Via.  The Holiday lineup of beverages is back, and now I can start asking for Gingerbread sauce in my oatmeal! That is a great addition to oatmeal, and asking for dark cherry earlier this year was only a weak substitution.  There's been lots of gossip surrounding the return of the Caramel Brulee Latte this year, and that's one more welcome addition to Holiday 2010.
Enjoy the pictures! And thank you again to the partners who helped me put together this blog post.
This is an open thread. Feel free to talk about anything Starbucks-related, or this cute little mouse.
Related posts