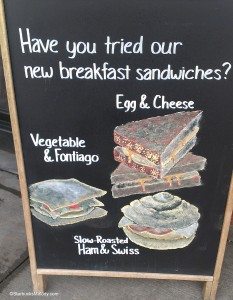 Breakfast at Starbucks suddenly has a lot more options. On March 4, 2014, Starbucks introduced a new Egg and Cheddar Breakfast Sandwich, Vegetable and Fontiago Breakfast Sandwich, and Slow-Roasted Ham and Swiss Breakfast Sandwich. Your warmed breakfast sandwich options now include:
Egg & Cheddar on toast. (new)
Vegetable & Fontaigo. (new)
Slow-Roast Ham and Swiss Breakfast Sandwich (new)
Sausage & Cheddar Breakfast Sandwich
Bacon & Gouda Breakfast Sandwich
Ham & Cheddar Breakfast Sandwich
Reduced Fat Turkey Bacon
Spinach & Feta Breakfast Wrap
That's a lot of breakfast choices! It seems incredible to me that there are so many breakfast options. To be honest, I never used to order breakfast sandwiches at Starbucks. I really didn't like them before. Actually, I still don't like the old recipe breakfast sandwiches (with the exception of the Spinach & Feta Wrap which rocks). The three new breakfast sandwiches are excellent! The Reduced Fat Turkey Bacon Sandwich is not new, but does have a new recipe. I haven't tried it yet.
I've ordered the Vegetable & Fontiago a couple of times and it's delicious! I will say though, it's very filling. Order this when you're genuinely hungry. The Slow-Roasted Ham is another good one. Of course, my favorite warmed breakfast item is an unchanged staple: The Spinach Feta Wrap.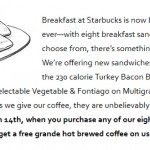 Free Brewed Coffee March 12, 2014 – March 14, 2014 (with purchase of a breakfast sandwich, at participating stores, excludes Clover-brewed coffee).
Starbucks is offering a promotion where if you buy a breakfast sandwich between March 12, 2014 and March 14, 2014, you'll get a free Grande-sized (16 ounces) brewed cup of coffee (Clover-brewed coffees are excluded). Getting a free coffee is always a fun thing so I thought I'd point this promotion out. The official breakfast sandwich page at Starbucks.com is here.
Which one do you like best? Have you tried the new breakfast items? What do you think? Please weigh in. It was just last October that Starbucks tested the new sandwiches, and sure enough breakfast has a new look.
Related posts