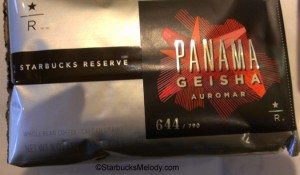 Tonight (April 9, 2013), I had the chance to attend a very special coffee event.  Leslie Wolford, a Starbucks coffee master at the Starbucks headquarters, lead the seminar for the new Panama Geisha Auromar Reserve coffee.  The supplies of this coffee are so limited, it will be an online offering only.  Here's the link for it at StarbucksStore.com.  As you may recall from the last time I wrote about a Geisha varietal coffee, the trees are low yielding, and many farms don't grow Geisha trees, so Geisha varietal beans are in short supply.
This new coffee hass hints of orange and mango, and is described as having some spice ('bergamot') flavor too.  One person at tonight's event described the finish of the coffee as having a little bit of an "earl grey" finish.  This new Geisha coffee strikes me as a little more complex, and robust than the last one, and less juicy.  I got a lot of the orange notes (and some floral notes) from the aroma of the beans.  I definitely was able to detect orange flavor notes in the coffee, though the person next to me thought it was more spicy!  The roast profile for the beans is still a fairly delicate and nearly-blonde roast so that that you can enjoy all origin flavors, and almost no flavors of the roast.  By the way, notice in the photos, these beans are fairly large coffee beans.
For this new Reserve, the Panama Geisha is being sold in numbered half-pound bags.  There are only 790 bags of this coffee.  It comes from just 17 hectares of land in Panama, at an elevation of 5,100 feet.  Starbucks sourced so little of this coffee that they roasted it all on March 26, 2013, and it was roasted actually at the Starbucks headquarters, rather than one of the large roasting facilities like the Kent Roasting Plant.
Starbucks suggests savoring this coffee on its own, rather than trying it with food.  We tried it both Clover-brewed, and made with a pour over, and I liked them both, though enjoyed the Clover-brewed a little more.
If you want to buy this coffee, you should do so right away.  Since there are only 790 bags of it, I bet it will sell out in just one day.  Each bag of coffee comes with a letter about the Panama Geisha Auromar, signed by Craig Russell, the Senior Vice President of Global Coffee Authority at Starbucks.
Thank you East Olive Way Starbucks for hosting this event.  If it's not obvious, I had a great time.  I thoroughly enjoy coffee tastings, and it was terrific to catch up with many friendly faces also.  And what a treat to be able to try such a rare and exotic coffee offering!
The East Olive Way Starbucks has regular coffee events every other Monday evening, at 6:00 p.m.  I hope to see you at the next one!  (Call ahead to confirm their coffee seminar schedule).
******
Related article:  Coffee event for the Geisha Finca Palmilera Starbucks Reserve coffee.
Related posts