Coming Soon? New Breakfast Sandwiches at Starbucks.
Melody, October 26, 2013
53
1 min

read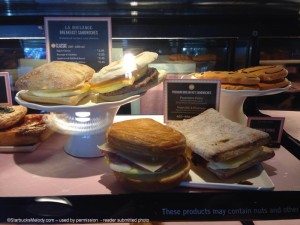 Starbucks is currently testing new breakfast sandwiches.
Pascal Rigo, the founder of La Boulange and the lead food innovator at Starbucks, was recently quoted as saying, "[W]e could expect to see new breakfast sandwiches in our stores by April or May, 2014."  So while often I talk about Starbucks tests as having a remote possibility of making it to a national launch, it seems more likely than not that new breakfast sandwiches could come to Starbucks.  And, so it came as no surprise to me to hear that currently new breakfast sandwiches are being tested in select markets in Arizona.
The new breakfast sandwiches include a couple of "premium" breakfast sandwiches described as Prosciutto Cotto, and also Vegetable & Fontiago.  The classic breakfast sandwiches underwent some revamping too, and in Arizona, you now get options like the Applewood Smoked Bacon breakfast sandwich.  I don't have a lot of details on this current test, but I am definitely curious!  A reader sent in a few photos showing the new breakfast sandwich lineup.  Thank you!  (This test is in limited districts in Phoenix, Tucson, and Spokane, so I have heard.)
Are you ready for new breakfast sandwiches? What changes would you like to see?
Related posts