Starbucks Frappuccino Happy Hour returns: May 1st – May 10th 2014.
Customers can get a half-priced Frappuccino when visiting a company-operated Starbucks from 3:00 PM to 5:00 PM. You can customize a Frappuccino or order one of the classic favorites that so many people enjoy: Caramel Frappuccino, Caramel Ribbon Crunch (seasonal), Java Chip Frappuccino and Strawberries & Creme Frappuccino.
This is a returning customer-favorite promotion. You don't have to pay with a Starbucks card, but of course if you have registered Starbucks card (and use it as your form of payment) you will earn a "star" for your purchase. I've heard from a couple of people, there will be opportunities for MyStarbucksRewards members to have their happy hour extended to 6:00 PM. Sign up for MyStarbucksRewards!
Starbucks first introduced the Frappuccino Happy Hour in May 2010, to coincide with the introduction of the then-new "However-You-Want-It" customizable Frappuccino.
It's not too early to mark your calendars – preferably using a thick Sharpie – for this event. Hope to see you there! (Well, maybe not. I'm not a huge Frappuccino drinker but I know that lots and lots of customers love this promotion.)
What's your favorite Frappucino?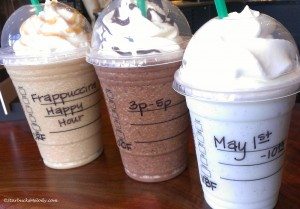 Related posts