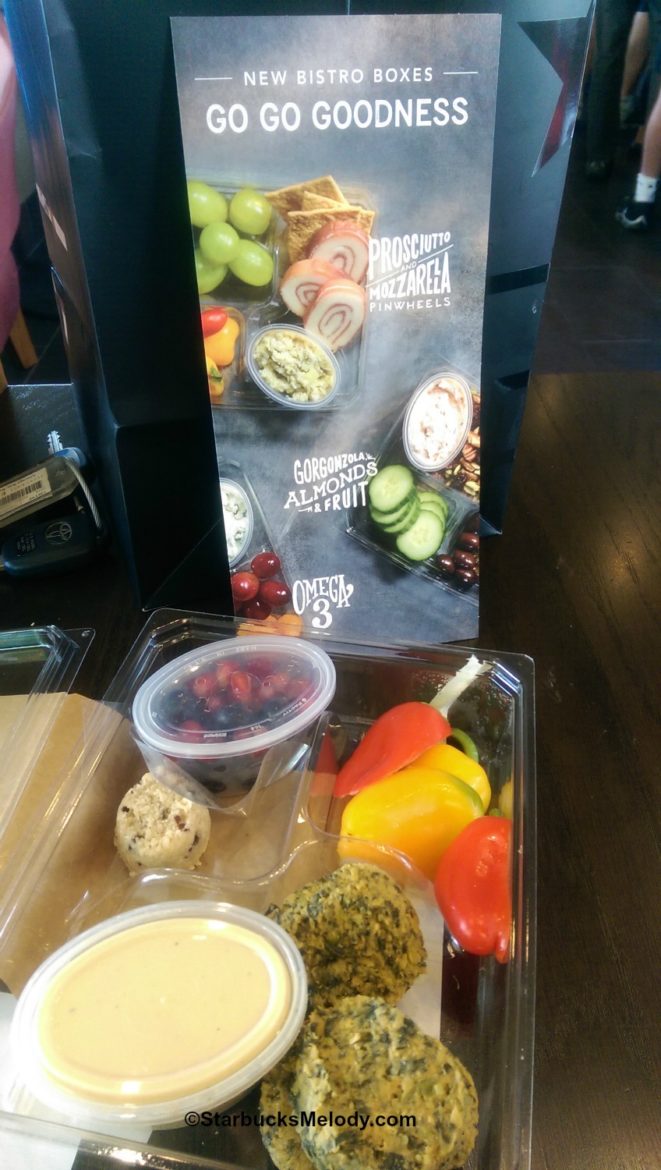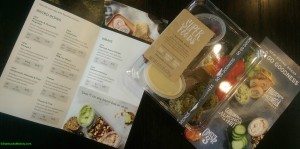 Right now you'll find new bistro boxes in select Starbucks locations. It's a pretty significant test of new bistro box lunches. I went to a Starbucks in San Diego, offering all the new items. I pretty much tried to eat everything, though there's only so much one person can eat in one sitting! New items include the following:
New Prosciutto & Mozzarella Pinwheels – This was pretty good. I'm not particularly into prosciutto though. This one came with a little fudge square as a dessert treat. That was so delicious that I'd love to see it sold separately!
New Omega – 3 box – This was one of the few boxes I didn't try at all.
New Gorgonzola, Almonds & Fruit box – The honey-gorgonzola spread in this box is delicious. This also comes with grapes and dried apricots, which I really like. There is a small package of truffle-salted almonds too. I thought the truffle flavor was very strong – maybe even a bit too strong.
New Superfoods – This one is considered wheat-free and dairy-free. Despite how incredibly healthy this box is, it was one of my favorites. The little fruit snack in it includes blueberries and pomegranate seeds. I have a weakness for pomegranate. Having been raised in Southern California, I grew up eating pomegranate often – and making an absolute mess as a kid, staining things red! The baked chickpea and kale cakes are good. The kale flavor is very subtle and mostly the chickpea dominates. This one comes with a treat of an almond-chocolate chip macaroon, which was delicious.
New PB&J on Wheat – This was also one of my absolute favorites. I like peanut butter and jelly sandwiches! The string cheese with it is delicious!
New Thai-style Peanut Chicken Wraps – This too was delicious. Grab extra napkins – the slaw in the wraps is messy! It comes with a Thai peanut-coconut sauce. I made the comment to the barista I was hanging out with that the Thai sauce had very little kick to it, and she too thought it was bland. I happen to really like the peanut sauce, but I'm the kind of person that would order Thai food with no stars or one star. I actually think that most people would expect that the peanut-coconut sauce would be a little spicier than it is.
New Edamame and Hummus box – I didn't try this one either.
Protein box – This is the standard protein box, found in Starbucks everywhere, though re-packaged in "go go goodness" packaging.
Cheese & Fruit – This too is a standard bistro box, found everywhere.
As I was driving back to Orange County in my rental car, I listened to some local radio station. I was surprised to hear a radio ad for the new "Go Go Goodness" bistro boxes, encouraging San Diego customers to try these!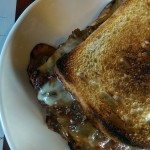 Also, a small number of stores have the "beef brisket" sandwich test. Trust me, by the time I ordered this, I was stuffed. This was a very heavy sandwich and not something I'd order twice, unless I was very hungry. I prefer a light, healthy and delicious bistro box.
You might be wondering where you find the "Go Go Goodness" new bistro boxes. You can find them throughout San Diego County, California; in select areas of Riverside, California; and in Orlando, Florida. The beef brisket sandwich may have more limited availability.
Starbucks tests many more thing than what makes it to a national launch. You can read about some past tests here. One example of this is the Pink Lime Frozt, which went through multiple rounds of testing before Starbucks axed it.
What do you think of the new food at Starbucks?
Related posts