Frappuccino of the Week: The Churro Frappuccino
Melody, May 4, 2015
4
3 min

read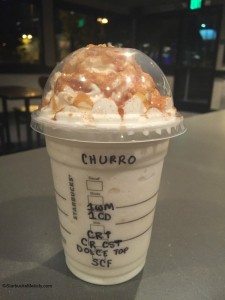 The churro is a beloved favorite snack for many Californians. A barista (and coffee master) in Orange, California has come up with her version of a "Churro Frappuccino." Warning: This one is hard to order!
Here's Cecille's description of the Churro Frappuccino (in the Grande size): "It's a syrup creme frappuccino. Blended with cinnamon dolce and white mocha syrup. As well as caramel sugar toppings from the dark caramel frappuccino blended together with the two syrups. On top is regular whipped cream, caramel sauce, cinnamon dolce sprinkles and caramel sugar on top."
It's both the caramel ribbon crunch topping and cinnamon dolce sprinkles topping that gets blended into the blender with the one pump of white mocha and one pump of cinnamon dolce syrup. The toppings are the whipped cream, caramel drizzle, cinnamon dolce sprinkles, and the crunchy topping used in the caramel ribbon crunch.
Thank you Cecille for your "Frappuccino of the Week" entry!! I have already sent Cecille a $10 Starbucks Roastery Card as a thank you for her submission.
I tried this one myself too – It's a little complicated to order but a delicious once in a while treat. It does conjure upa churro, which was a staple of my diet growing up in Southern California!
Here's how you submit a Frappuccino of the Week (if I use your submission, I'll mail you a $10 Roastery Card as a thank you): First off, be sure to include a high resolution image of your drink. The Frappuccino should be full and not yet consumed. Include all information about the drink recipe or drink build. I want to make it easy for others to order your drink. Include a statement that you took the photo of the Frappuccino and that you're giving me permission to use it – entry into the Frappuccino of the Week category presumes that I may freely use your photograph on this site. Please introduce yourself and let me know if you are a customer or a partner. If you're a partner, I'd love to know if you are a store manager, a coffee master, and/ or some small fun detail about your career – even your favorite coffee. Send your Frappuccino drink idea, image, drink build instructions, and all relevant information via email to Melody at StarbucksMelody dot com. If you want the $10 Starbucks card, I'll need your mailing address.
How to submit a Drink of the Week: (Drink of the Week is any non-Frappuccino drink). Any partner can submit a beverage to be featured on this site. Include a photo of the drink (full) and a description of the recipe and/or information on the drink build. Include your name, location, and a return address. Also include snippet as to why you like this drink. If I use your drink, I'll mail you a $10 Starbucks Roastery card.
Related posts