Free brewed coffee at Starbucks on April 15th (Coming to your local Starbucks this Thursday)!
Melody, April 12, 2010
53
3 min

read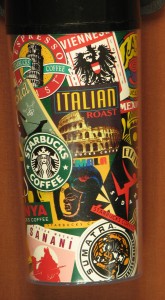 This year April 15, 2010 is not just tax day. It's "free brewed coffee day" at Starbucks. But there is a catch to this: The customer has to be "green."  Bring in your own personal tumbler and receive a free brewed coffee in it on April 15, 2010.  Think of it as an early celebration of Earth Day.
This is THE perfect chance to remind my readers that being green is truly a partnership between the customer and the business. The responsibility to take care of the environment is in the hands of both customer and corporation.  I routinely hear complaints about the lack of recycling in a Starbucks store, but the fact of the matter is that it is far more "green" and "earth friendly" to bring in your own cup than to use a paper cup and then toss that paper cup into a recycle bin.
The amount of energy required to sort recyclables, transport them to a recycle station, convert and transform it into something new, and then re-distribute that new product into the chain of commerce far exceeds the little bit of water required to rinse a personal cup.
Make it a habit to take a personal cup with you to Starbucks. Whether you throw it in a backpack, keep it in your car, toss it in your purse, or carry it around in your briefcase, a personal tumbler IS the earth-responsible thing to do on the part of the customer, and there is no substitution for it (other than staying in the store and asking for your beverage in for-here ware).
According to the 2008 Shared Planet report, less than 2 percent of all Starbucks customers are using their own personal cup. This has got to change. That change can only happen when we, as customers, make that personal decision to change our own Starbucks habits. I know it's cool and hip to have a white cup, with a Siren, and boxes, but taking care of the earth is even cooler.  Starbucks partners are an important part of this too. I've heard it said (not sure if this is an exact statistic) that Starbucks partners use about 4 million paper cups every year. Starbucks, in total, uses over 3 billion paper cups every year.
This is also a great opportunity to remind folks of my previous blog entry on recycling at Starbucks:
Commentary: Recyclable Cups and Starbucks
Enjoy your free coffee on the 15th!
PS: Notice the reusable coffee tumbler in the image associated with this blog entry. Those who know me, know that I am totally enamored with the Starbucks coffee stamps of the 1990s and the era when the coffee stamp was constantly in use for custom blends, half-pound coffee sales, and sampling coffee.  The tumbler featured shows off the first generation of coffee stamps before they were through the late 1990s revision. That Sumatra tiger is still what I think of in my head when I think of Sumatra. It is still my visual image for Sumatra.
So who else will be having a free cup of coffee this Thursday? 🙂
[[Caution: This blog entry applies to the United States. I know I have readers world-wide, but I'm not sure if other Starbucks other than the U.S. have similar promotions going on. Sorry.]]
Related posts