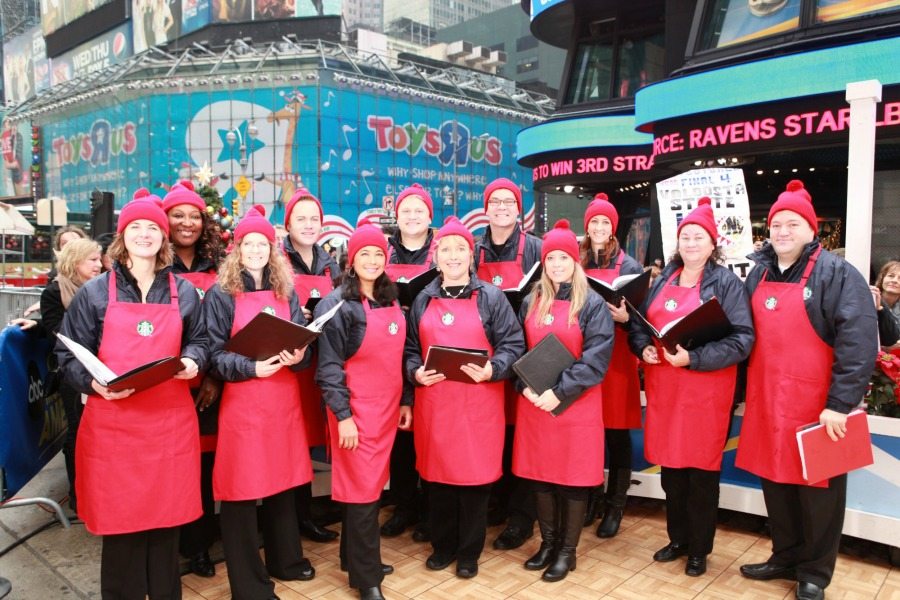 The Starbucks Chorus: Caffeinated Caroling!
Melody, December 8, 2014
7
3 min

read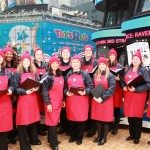 Lots of people don't know that there IS a Starbucks Coffee Company Chorus! Last year, the Voice (an NBC television show) featured the Starbucks Chorus singing "Will the Circle be Unbroken"! And every year, the Starbucks Chorus sings in downtown Seattle at an annual caroling event, the Great Figgy Pudding Caroling Competition, which raises money for the Pike Place Market Senior Center and Food Bank. Through the fundraising efforts, the Starbucks Chorus was able to donate $32,000 to the Pike Market Senior Center and Food Bank this year!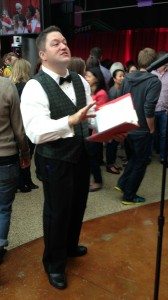 The musical director of the Starbucks Chorus is James Hing, an eight-year Starbucks partner. James Hing trained as a classical pianist and says, "Music is such a powerful unifier – it can have great meaning to whoever is hearing it," said Hing. "I've always found that singing really resonates with people… when our audiences hear the Starbucks words for the first time, their reactions are priceless."
The Starbucks Chorus was founded in 1996, and is now composed of roughly 40 partners who make Starbucks-inspired music come to life. You may even hear them sing special lyrics like, "walking in a coffee wonderland…"!
I asked James what he found especially memorable being part of the Starbucks chorus and he said, "Seeing the faces and emotional reactions as the chorus performs at events each and every year. We bring our mission to each event – we want to demonstrate that we are a living example of not only the Starbucks mission, but how everyone should play an active role in caring for our communities. This is a mission that is embedded already in our personal values as individuals – nothing brings us more joy than contributing our musical talents toward helping others.
I continue to be amazed by the personal commitments of our singing partners and the time they dedicate to practice and work together to raise money for the charity we sponsor. That, along with the dedication of those who also give to the cause and support us in this mission, is what is most memorable."
I really wanted to know if James has a favorite song to sing with the Starbucks Chorus! Here's what he told me: "That's a hard question! We have several favorites amongst all of us.  Currently the group's most favorite is probably "Some Nights" which we re-wrote as a parody of the original song and lyrics by the group Fun. We modified the lyrics substantially to bring attention and focus to homelessness and hunger. One of the lines in the song talks about how we wake up at night hurting for people in these situations. The song really focuses on the role that each and every one of us can take in supporting those that are going through challenges. We can all make a difference if only we try and use our compassion for humanity to help others."
 It's a very natural question that partners reading this might ask, "how do I join the Starbucks choir?" When the choir is looking for new members, they'll often announce that on either their Facebook page or the partner hub. (The "partner hub" is only accessible to partners).
I hope you get a chance to hear them sing soon! James says that in 2015, they're looking forward to singing year-round and working with other charity organizations.
I did a search on You Tube looking for video of the Starbucks Chorus and found this cute little 30 second segment – hope you enjoy it too!
Special thank you to Starbucks official spokesperson Linda Mills who assisted me in gathering information and getting photos of James Hing and the choir. The photos are the intellectual property of Starbucks Coffee Company, as always, do not reproduce or distribute without expression permission. If you have a media request, you can contact Starbucks via the Starbucks newsroom page.
Related posts