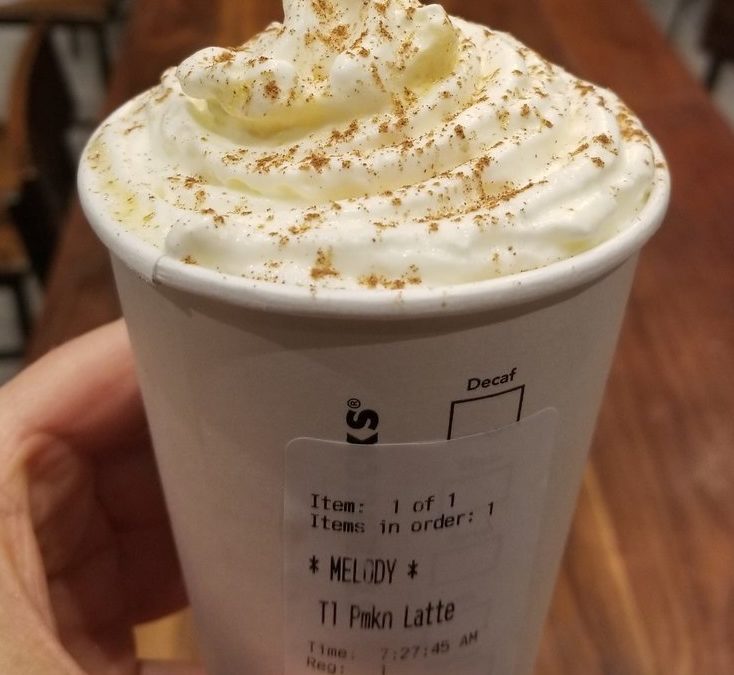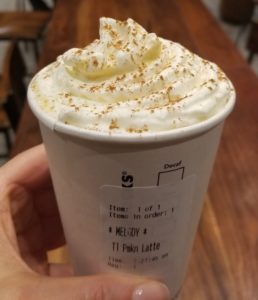 Yesterday, August 28, 2018, Starbucks released once again the fan favorite Pumpkin Spice Latte. It's a long-standing tradition, signalling the start of fall. The Pumpkin Spice Latte has been around since 2003, according to this Starbucks News Room story, and was almost called the "Fall Harvest Latte"!
There have been years past of fan fare and special passes that you could show your barista to get an early sip, but this year, thankfully, it was released everywhere at the same time. I prefer the simplicity of the drink simply being on the menu, and you can order it. Last year, there was even a limited time offering of a pumpkin spice whipped cream – one more way to amp up your Pumpkin Spice Latte.
Are you going to indulge in a Pumpkin Spice Latte this year – maybe even a few of them? I hear this year's Pumpkin Spice Latte is delicious!
Related: The story of the Eggnog Latte
(Truth moment: I didn't actually drink any of the drink shown above. It was just used for the photo shoot. I've been vegan for a few months, and this just doesn't fit into what I like or want to drink anymore. The syrup used to make the Pumpkin Spice Latte is definitely not vegan, and truthfully, I just don't crave these kinds of drinks at all anymore. Having said that, I completely appreciate that many people know and love the Pumpkin Spice Latte and will enjoy it many times during the fall season.)
Related posts
Socialize

Subscribe
Join the StarbucksMelody.com mailing list to receive a weekly email with new posts.