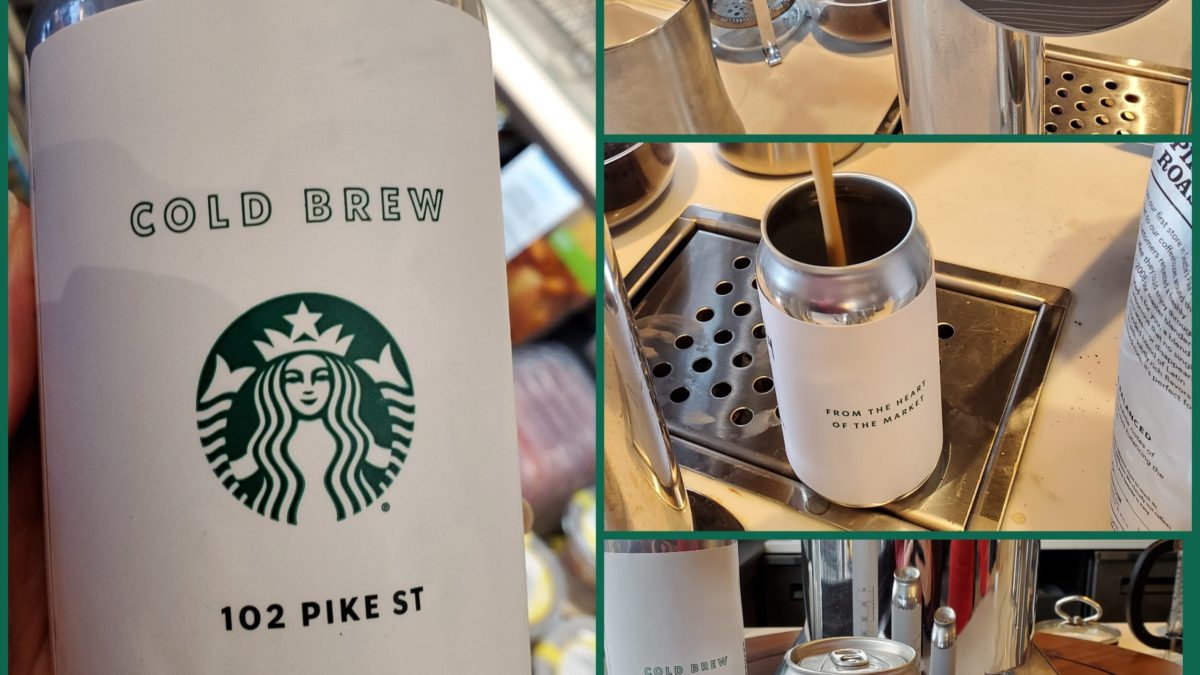 This Starbucks is canning its own cold brew.
Melody, March 1, 2020
2 min

read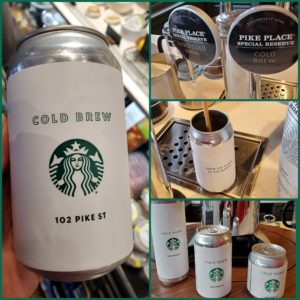 The First and Pike Starbucks in downtown Seattle is now offering its own unique canned cold brew coffee. That store offers Pike Place Special Reserve coffee, which is not the same thing as Pike Place Roast. Pike Place Special Reserve is a darker roast profile than Pike Place Roast, and it is a different blend of Latin American coffees. You can find Pike Place Special Reserve at two locations: The first store at 1912 Pike Place, and this Starbucks, just outside the entrance of the Market, located at 102 Pike Street.
The First and Pike Starbucks opened new on Friday, March 13, 2009.
About three weeks ago (roughly) the store went through a major remodel. Reserve branded coffees were removed. The Pike Place Special Reserve coffee remains, and is now canned right on site! You can grab some already canned from the ready-to-drink cold case, or you can ask to have yours canned for you, in the size that you would like.
If you order Pike Place Special Reserve Cold Brew to be canned, it's poured from the cold brew draft into a can, and then the barista puts on a lid, and then places the can into a sealing machine, and it's ready for you! Very straight forward!
This website is over a decade old. A long time ago, I attempted to explain the difference between Pike Place Special Reserve and Pike Place Roast here. The basic information in it is still a good discussion of the difference between these blends.
Hope you get a chance to visit and try this!
Enjoy!
Starbucks store #14870
102 Pike Street
Seattle, WA 98101
(206) 903 8010
Related posts